These bars are an experiment using Steel Cut Oats. I will update the recipe from time to time to fix things as I try variations.
My first try, I baked them for 30 minutes at 350.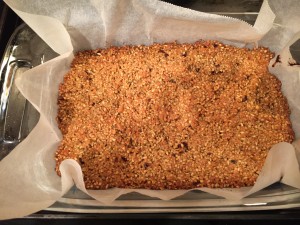 Combine oats, coconut and cranberries in food processor

Process until cranberries are down to 1/4 inch chunks

Combine honey and Almond Butter. You may want to heat them to get them to combine nicely

Combine all ingredients in a bowl and mix with a spoon or fork or your fingers

Line 8 X 8 or other similar sized container, metal or glass and bake for 30 minutes at 350 degrees.

Put into refrigerator until completely cooled and stiffened.